Imperial Makes Strategic Investment in South African based Healthcare Manufacturing Business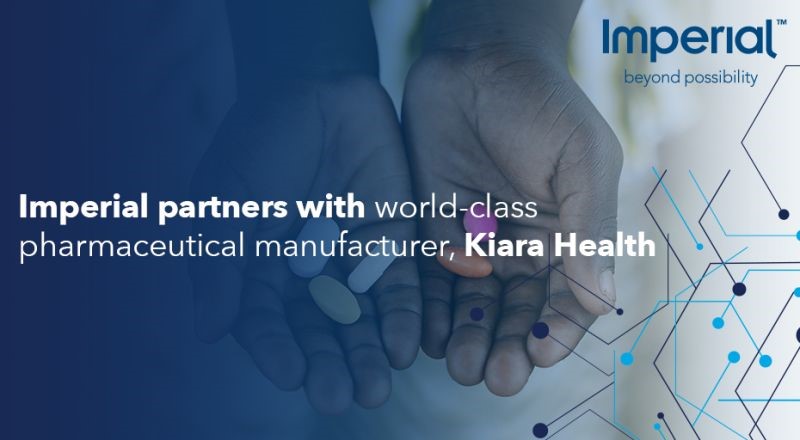 Effective August 2020, Imperial acquired a 49% shareholding in Pharmafrique (Pty) Ltd (trading as Kiara Health). Kiara Health is an African pharmaceutical manufacturing and healthcare services company based in Johannesburg. It serves as the local, non-exclusive manufacturing partner for a global leader in generic and biosimilar medicines and as a commercial partner for several global pharmaceutical and medical technology companies.  The investment is in line with Imperial's strategy to backward integrate into contract manufacturing as part of our market access service to multinationals on the continent.
"Kiara's aspiration to deliver world class medical solutions to all patients on the African continent resonates strongly with Imperial's purpose to connect Africa and the world and to improve people's liveswith access to quality products and services," says Mohammed Akoojee, Imperial Group CEO. The company's portfolio and pipeline of innovative pharmaceutical products and next generation medical devices – including robotics, devices and point-of-care diagnostics – also present opportunities that will be leveraged to benefit all the people of Africa.
"The Covid-19 pandemic has been a stark reminder of the critical importance of local healthcare product manufacturing capability," expands Dr Skhumbuzo Ngozwana, CEO and president at Kiara Health. "Kiara's world class manufacturing capabilities – and our exceptional governance and regulatory expertise – sees us justifiably placed at the forefront of the South African healthcare manufacturing industry."
"Imperial is proud to be a shareholder in this remarkable business we look forward to the increased value this acquisition will bring to our strategic partnerships with multinational clients wanting to enter and grow in African markets," concludes Akoojee.