Kiara Health Scoops Coveted African Visionary Innovation Leadership Award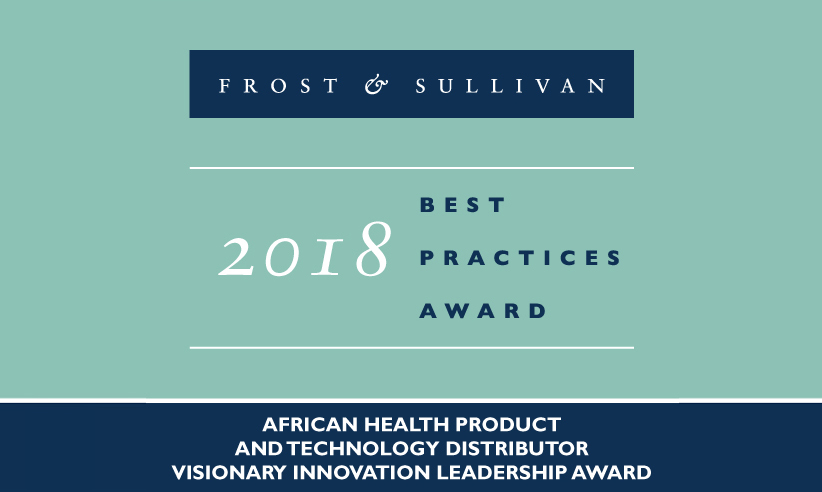 Tuesday, 3 July 2018 Young pan-African pharmaceutical company, Kiara Health, has been awarded the coveted Africa Visionary Innovation Leadership Award for 2018 by international growth partnership company Frost & Sullivan.
Frost & Sullivan recognised Kiara Health with the award in recognition of its considerable and highly innovative efforts to raise the level of healthcare delivery in Sub-Saharan Africa, and for its impressive offering of world-class medical technologies, which include robotic devices, point-of-care diagnostic tools, and over-the-counter pharmaceutical products.
Commenting on the award, Frost & Sullivan said that Kiara Health ensures that its products optimally distribute across the Sub-Saharan African region by partnering with international device and pharmaceutical companies.
"Kiara Health's nuanced understanding of the fast-growing Sub-Saharan market allows it to tap into the opportunities presented by markets like South Africa, Kenya, Ethiopia, and Nigeria," said Takudzwa Musiyarira, Research Analyst at Frost & Sullivan. "Its footprint in these four key markets makes it the ideal partner for the in-licensing, registering, and commercialisation of products from highly regulated markets."
The company has shown a strong dedication to lowering healthcare and medication costs by manufacturing generic pharmaceuticals locally, in South Africa, and does so by leveraging its market position and expertise and by acquiring affordable, world-class products from other highly regulated markets.
Dr Skhumbuzo Ngozwana, President and Chief Executive Officer of Kiara Health, said that as a company with a vision to restore, preserve, and progress the health of patients on the continent, Kiara Health was honoured and humbled to be the recipient of the 2018 Frost & Sullivan Africa Visionary Innovation Leadership Award.
"As the icon of modern medicine, Professor Christiaan Barnard once said: 'The goal of medicine is not the prolongation of life; it is the improvement in the quality of life that is important.' This is a vision that we at Kiara Health share, particularly here within our continent of origin, where affordability and accessibility of healthcare is an ideal that requires our ongoing focus."
"We started Kiara Health some 18 months ago with the vision of becoming a pan-African pharmaceutical company. During this time, we focused our efforts on developing a robust, ready-made platform with local manufacturing as a core foundation of our strategy. It is our mission to fulfil a pivotal role in the overall improvement in the quality of life of our fellow Africans, not only here in South Africa but throughout Sub-Saharan Africa," added Dr Ngozwana.
Significantly, all of Kiara's products include security tagging to prevent counterfeiting in the vulnerable African health and pharmaceutical markets. It also offers enhanced value by tailoring solutions for the private, public, and funded healthcare segments.
"The company maintains its structure and order through a governance framework and operative management systems, ensuring that its executive team can mitigate risks and regulate marketing code compliance. As the regulatory standards in many Africa markets have improved, Kiara Health is well positioned to navigate the challenges and opportunities inherent in a rapidly evolving Africa healthcare environment," added Musiyarira. "Overall, Kiara's vision and focus on solutions and values make it a worthy recipient of Frost & Sullivan's Visionary Innovation Leadership award."
According to Dr Ngozwana, healthcare systems are facing significant challenges the world over. "The regulatory landscape worldwide is uncertain, for a number of reasons. As science develops, the nature of the products that we bring to the market and the ability to determine what is safe and not safe – means that the complexity of these markets is increasing. Regulatory systems have to keep up with that.
"By necessity, the burden placed on companies to prove that their products are safe and effective is therefore rightfully increasing. When you put a product on the market, you need to be sure that it will be both beneficial and safe for patients," he concludes.